The last couple of weeks have certainly encouraged veal producers to read the market report and check out the price for finished veal cattle. As many have noticed, prices have been softening and it's been hitting the pocketbook hard. From the charts below, you can see April pricing traditionally has consistently been lower than the yearly averages. The pricing in these charts are collected from the sales barns in Ontario, and not direct to packer. The charts illustrate the price differences between the yearly averages and what happens in April and May. I have included bob calf average pricing as well, since it is a large portion of the cost of production.
For those who are shipping to sales barns, the impact of a price drop is felt immediately more so than those who ship direct to packer. The direct to packer price is typically a little slower to drop, however, it is not uncommon for producers to get backed up by the packers during these times of price drops. This causes other issues with overweights and colour. When it's tough, it is tough everywhere.
For those who are relatively new in the veal industry, you might not realize that the last few years have experienced stronger than average markets. Those years are the exception and not the rule. The reason they were stronger years was not a sudden increase in veal consumption but an overall protein shortage in North America which brought a price increase to all meat proteins.
So you ask why is the price dropping now, well I am not a cattle market analyst by any stretch of the imagination, but some people are expecting that cattle prices this year will be somewhat lower on average than 2017. This is mainly because North America is not having the same beef and protein shortage experienced a few years ago (2015 pricing) and the experts expect that that total beef production will increase in 2018 which will contribute to lower average veal prices.
It's not all doom and gloom, for the most part, pricing should be down slightly from 2017 which on average is still higher than any average pricing prior to 2013. It's easy to forget the low prices up to and including 2010 when the veal yearly average pricing was never over $1. Anyone in this game for any length of time will remember those days. The last few years with higher than average pricing has helped veal producers forget about those days but they are the history of the veal industry.
Yes, the veal price is not as high as 2015 but it is not as low as prior to 2010. The good news is April is over and May should be a little stronger if history is any indication. Now may be a good time to look at your cost of production and where improvements could be made. The easiest and least expensive place to start is to look at your morbidity (sickness) and mortality records and calculate just what your mortality percentage is. If that number is not acceptable (should be below six percent) then maybe the quality of calves you are buying might not be what it should be. It's a start and a topic to be continued in an upcoming issue of the Alliance.
For now, review the market report, compare it to your pricing, look at ways to improve the bottom line and consider how much you are paying for bob calves or pre-cons. If you have any questions please do not hesitate to call the office and have a chat about ways to get through the ups and downs of the veal market.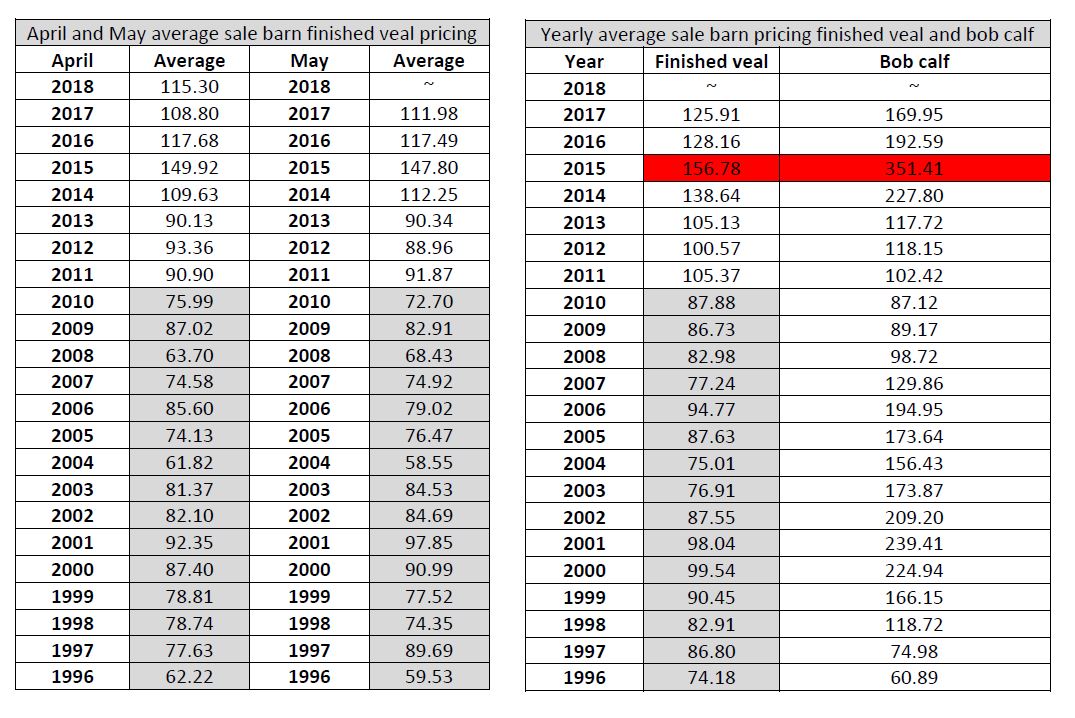 Click here to downlad a pdf.