VFO's regulations amended to include veal cattle sold in sales barns
Amendments provide clarity and broaden definition of veal cattle
December 17, 2020 – Veal Farmers of Ontario (VFO) is pleased to announce that amendments to the VFO regulations that update the definitions of veal cattle and now include the collection of licence fees on veal cattle sold in sales barns will come into effect on January 1st, 2021.
VFO has been working collaboratively with the Ontario Farm Products Marketing Commission for quite some time to bring forward amendments to Regulation 58/15- Veal Cattle- Marketing Plan and Reg 272/14- Veal Cattle- Plan.
"VFO is pleased to reach this important milestone and we appreciate the support of the Ontario Farm Products Marketing Commission and Minister Hardeman for ensuring these amendments were completed," stated Pascal Bouilly, VFO Chair.
The amended regulations bring forward an expanded definition of veal cattle to include an extended weight on male dairy bob calves up to 150 pounds; inclusion of started or preconditioned intact male dairy calves up to 450 pounds; and the addition of veal cattle marketed on live weight basis, weighing no more than 769 pounds, through an auction or livestock dealer. There are no changes to the definitions for those producers who market their veal cattle directly to the processor.
"This is great news for VFO. We have been working on these amendments for quite some time and it is the final piece of our licence fee collection system to be completed since we became a marketing board under the Farm Products Marketing Act on April 1, 2015," stated Jennifer Haley, VFO Executive Director.
There are no changes to the $5.50 per head licence fee or check-off being assigned to veal cattle sold.
Prior to the amendments coming into effect, veal cattle sold in sales barns on a live weight basis would have had the Beef Farmers of Ontario (BFO) check-off applied. The change on January 1st, 2021 provides that the licence fees collected by the auction markets or livestock dealers on live veal cattle will be re-directed to VFO rather than remitted to BFO.
"The updated definitions of what is considered veal cattle will strengthen our regulations, provide clarity to our veal definitions, and ensure equity and transparency within all segments of our markets where our VFO licence fees are applied," stated Haley.
Bouilly also acknowledged the partnership with BFO has been key to bringing the amendments forward. "We appreciate the support and collaboration of BFO throughout this process. Both of our organizations share a common goal of ensuring licence fees and check-off are collected and remitted appropriately to each of our organizations," stated Bouilly.
Read the full news release here.
---
VFO provides updated calf management resource to all Ontario veal and dairy producers
December 16, 2020 – Veal Farmers of Ontario (VFO) is pleased to announce that the launch of the revised second edition of the "Building the Foundation for Healthy Calves II" manual will involve distribution to all Ontario veal and dairy producers.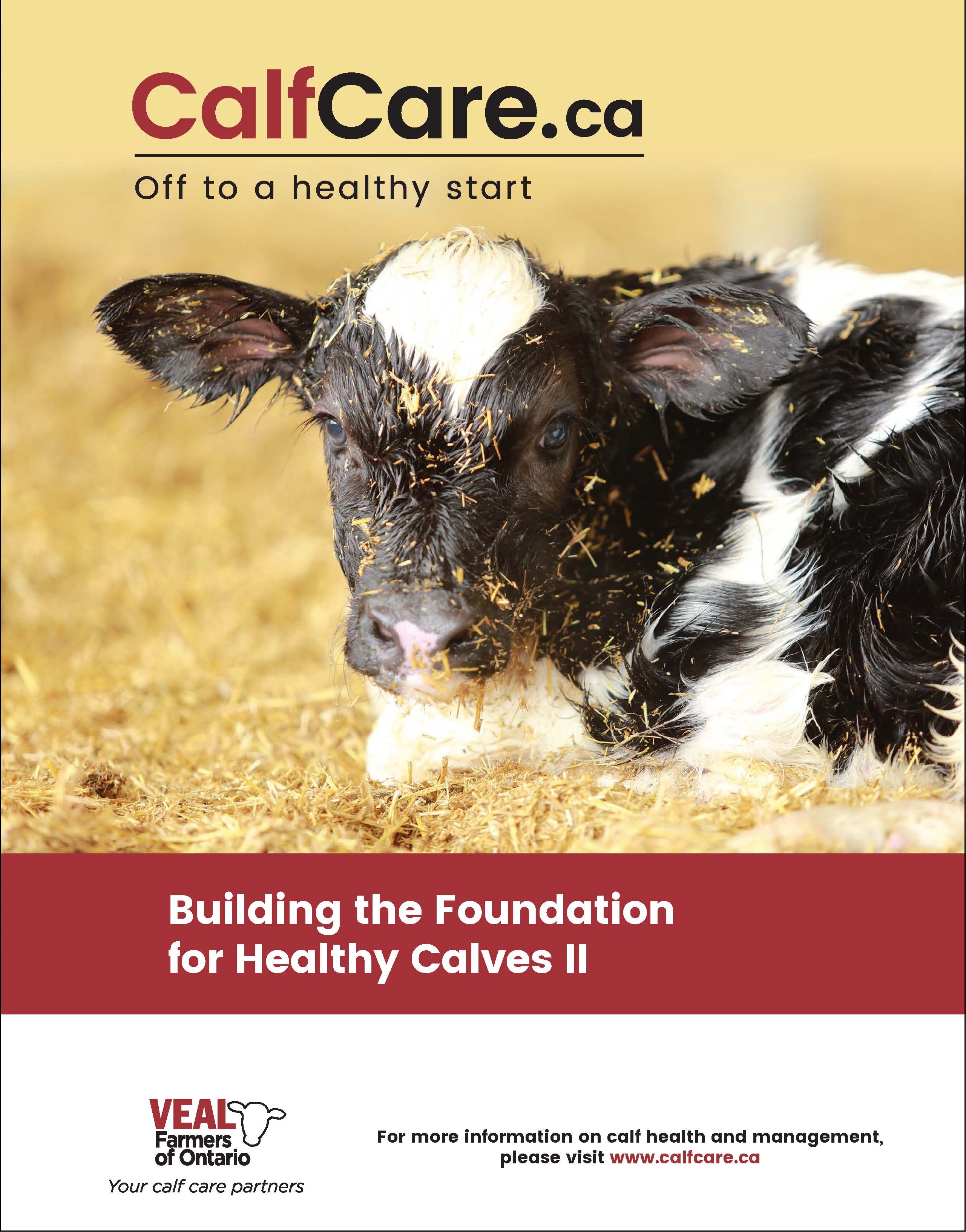 This manual is an essential producer resource designed to address the challenges of today's veal and dairy calf producers while highlighting the latest best management practices. Written by leading experts in calf management, this manual will help producers establish sound calf management protocols and take a proactive, complete farm approach to calf nutrition, disease, housing, and transportation.
"VFO is pleased to provide every dairy and veal producer in the province a copy of this resource," said Pascal Bouilly, VFO Chair. "Animal care is a top priority for VFO, and this manual is an important way for us to encourage both producers and veterinarians to incorporate calf health during regular visits and ensure that all calves consistently receive the highest quality of care."
Producers will receive a complimentary copy with the Winter issue of The Connection, or the December issue of the Milk Producer, depending on whether they are subscribed to one or both publications.
"This resource has been updated to give producers the latest recommendations when it comes to caring for their calves," said Kendra Keels, VFO's Industry Development Director. "The basic principles of calf-raising are the same, whether your calves are destined for the milking herd or meat production, and we want to get all calves off to a healthy start," she added.
Copies will also be available for purchase on www.calfcare.ca in the New Year.
Read the full news release here.
---
Security from Trespass and Protecting Food Safety Act, 2020: Protecting Ontario Farms and the Food System 
December 4, 2020 — More than ever, we understand the critical importance of maintaining a steady and reliable food supply and protecting the safety of those who feed us. Today, the Ontario government announced the proclamation of the Security from Trespass and Protecting Food Safety Act, 2020. Beginning December 5, 2020, the Act will protect Ontario's food supply chain, from farm to table, without infringing on the right to peacefully protest and, in conjunction with the Provincial Animal Welfare Services Act (PAWS), 2019, ensure animals are protected and cared for properly.
Ontario's farm and commodity groups applaud the efforts of the Hon. Ernie Hardeman, Minister of Agriculture, Food and Rural Affairs and the Ontario government in working diligently to support the needs of Ontario's food producers. The Act demonstrates to trespassers, activists, law enforcement and the Ontario justice system that the protection of farms, families, agri-food employees, animals and the food system is of the highest priority. The Act strikes a balance in enhancing the safety and protection of the farming and food industry while recognizing and respecting a citizen's rights to freedom of speech and freedom of assembly.
To be perfectly clear, Ontario's farm and commodity organizations are aligned in having zero tolerance for animal abuse. Concerns around animal abuse, and the ability and obligation to report such actions are entrenched within the PAWS Act. Farmers are highly regulated, following strict codes of conduct to ensure the health, safety and welfare of all farm animals. Animal welfare is integral to the care they provide for their animals. The Security from Trespass and Protecting Food Safety Act complements the PAWS Act, ensuring the highest standards of animal care, protecting people, animals and the province's food supply while respecting lawful and peaceful protest.
The agri-food industry in Ontario contributes more than $47 billion to the province's annual GDP and employs more than 860,000 Ontarians. Workers across agriculture and the food sector — including farmers and farm workers, transporters, abattoirs, processing plant employees, food service and retail outlets — have experienced threats and harassment from activists seeking to end their industry. These events pose severe risks to human and animal health and welfare and threaten the integrity of the food system by breaching biosecurity protocols. Unwanted visitors and trespassers can have devastating impacts on the health and safety of farms, families, businesses and livestock. In Canada, 97 per cent of farms are family farms — not only a place of business, but also homes where children are raised, and family and friends are welcomed.
Ontario farm families depend on the safety and security of their farms to raise livestock, and grow and produce food to maintain a strong, reliable food supply. On behalf of all Ontario farmers, processing facilities and agri-food businesses, we'd like to express our sincere appreciation to the provincial government for protecting farms and food safety. The Security from Trespass and Protecting Food Safety Act ensures Ontario's food value chain system is safeguarded, by strengthening protections for farm families, agri-food employees, and animals while maintaining the right to lawful protest.
Read the full joint media statement here.