The updated Health of Animals Regulations Part XII (Transport of Animals) came into effect February 20, 2020. These requirements impact livestock transport in Canada and the movement of young calves.
This Canadian Food Inspection Agency (CFIA) created a number of educational resources, including this checklist, to help you determine if your calves are ready to leave the farm.
The CFIA has also been working closely with industry, and have drafted fact sheets to reduce confusion around the requirements. If anyone has any questions, please do not hesitate to contact the VFO office for clarification.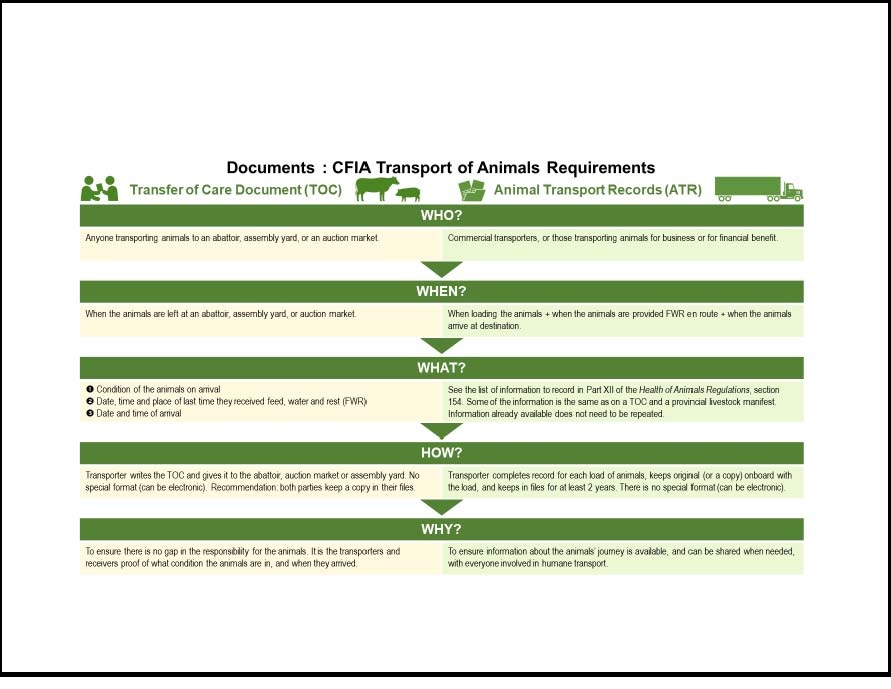 View the Transfer of Care fact sheet here.
View the Animal Transport Record fact sheet here.
For producers looking for documentation that complies with the Health of Animals Regulations Part XII: Transport of Animals, VFO customized the Animal Transport Record for the shipment of veal cattle. After consultation with producers, the Veal Cattle Transport Record has now been updated to provide an easier way to give packers further assurances of on-farm food safety. Find the standard record here and the detailed record here. VFO reminds all producers that the document needs to be filled out and sent with each load, and to work with your packer to determine which version you need.
More information on the Health of Animals Regulations Part XII (Transport of Animals) operation compliance and enforcement approach can be found here.
View the latest "Livestock Transport in Canada" brochure for more information about the updated transport requirements.
Visit their website for more information on humane transport and animal welfare in Canada.
The CFIA has published an infographic for Assessing lameness for transport. This tool has been prepared to clarify the decision-making process when assessing lameness before loading animals for transport.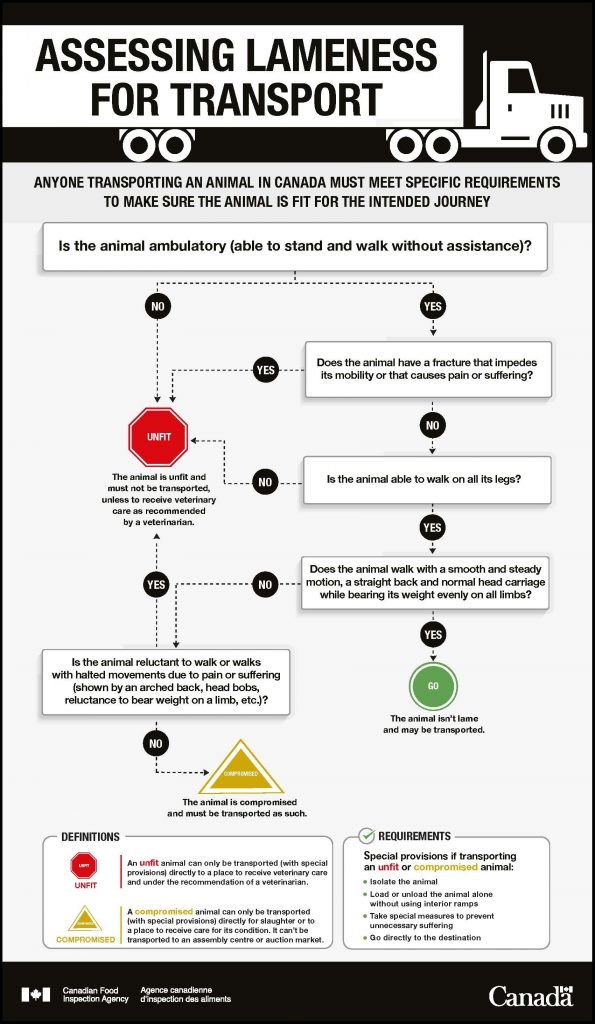 In this resource developed by Beef Farmers of Ontario, find the answers to frequently asked questions and more details about notable changes to:
Records and transfer of care
Compromised and unfit animals
Contingency plans
Farm & Food Care Ontario have developed a Livestock Transportation Emergency Manual and Emergency Contact List, designed for farmers who truck their own livestock and smaller livestock truckers who travel regular routes. Under Part XII of the Health of Animals Regulations, owners of transport companies or farmer truck drivers must have contingency plans to manage unforeseen delays or circumstances, including accidents. The Emergency Contact List would be useful for First Responders (and others) as an advanced planning tool to identify resources in your area that could be called upon in the event of a livestock transport accident.
Veal Cattle Transport
In this video, producers discuss important considerations for transporting veal cattle such as selecting cattle for transport, preparing for transport, handling during loading and unloading, selecting a transporter and trailer, maintaining a comfortable environment in the trailer, and minimizing stress during transport.