As with most farmers, your time is valuable and limited. The Veal Farmers of Ontario (VFO) compiles market report information weekly from multiple sources to help veal farmers efficiently stay current with the veal market.
The weekly market report can be a valuable tool for veal producers. The market report can help you to understand current veal market trends. Veal farmers have several options available for marketing their cattle including: direct to packer, sales barns, dealer, or through a freezer trade business. With any of these options, you need to be aware of current market prices to ensure you are receiving fair market value for your veal.
Ontario Direct to Packer
These price ranges are compiled weekly after collecting direct to packer pricing from multiple sources.  The "Range" listed is the price range for the current week and "Last Week" is the range for the previous week.
For the most part these prices are provided on a rail weight basis. Using a yield of 54.56% the rail price is then converted to a live price. To convert the rail price to the live price, multiply by .5456, for example: 3.10 x .5456 = 1.691, which is then rounded to the nearest cent for the report.
Weighted Average
This number is different than an average as it takes into account the number of veal shipped at each dollar value.  For example, if someone ships 5@$2.50 and the majority are shipped at $2.25 than the weighted average price would be closer to $2.25
Quebec Veal Market
The "Quebec Electronic Auction" chart is collected from the Fédération des producteurs de bovins du Québec. These prices are listed as an average of the rail weight price per pound.
Weekly Electronic Veal Sales & Comments
The largest section featured in the market report provides a snapshot of pricing from each of the major veal sales in Ontario. The "Average" column is the weekly information collected from sales barns in Ontario that sell veal and report their sales electronically to the Beef Farmers of Ontario (BFO). Comments from each of the sales arenas pertaining to veal sales are located beside the pricing and volume table.
Federally Inspected Veal
Keep in mind the numbers featured in this section are one week behind. Federal numbers are reported for Ontario, Quebec, and all of Canada by Agriculture and Agri-Food Canada. This table includes "Weekly" numbers for the current and past year, as well as a "Year to Date (YTD)" for both years. The "% Change" columns allow us to monitor how much more or less veal is being processed compared to the previous year.
Ontario Federal and Provincial Veal Totals
These two charts display the number of finished veal processed in Federal and Provincial plants each month over the past three years. Monthly numbers from each year can be easily compared.
Bob Calves
The "Ontario Live Auction Report" is a collection of reports from calf sales that do not send in their numbers electronically to the BFO. Once these numbers are collected they are then put into a range for each category. Most weeks the ranges are large, however, the purpose of this report is to give a general idea of bob calf prices.
The "BFO Auction Report" chart lists the weekly volume, average price, and weekly high price for calves less than 125 lbs. This information is compiled by BFO who receives it from the auctions sales that report electronically.
The "Quebec Live Auction" chart is collected from the Fédération des producteurs de bovins du Québec. These prices listed are per hundredweight.
"Bob Calves Sales Comments" are included in the table above the "BFO Auction Report".
Market Report App
Each week we do our best to provide the most current veal and bob calf prices in a timely manner. The report is distributed via email, posted to the VFO website and uploaded to the VFO app*. If you have any questions about this report, please do not hesitate to contact us.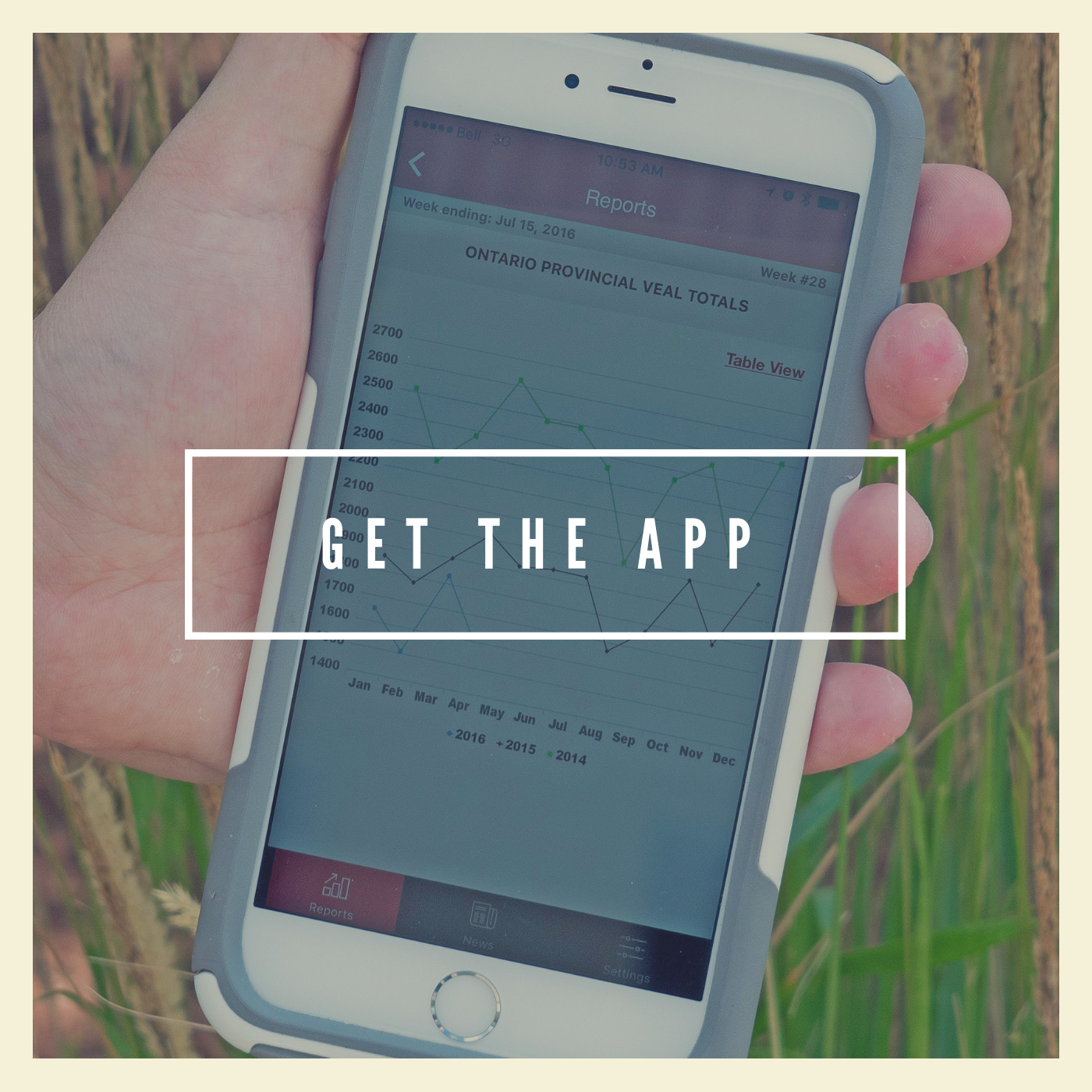 The Veal Market Report app is available to download from iTunes and the Play Store.  Click here for a step-by-step guide on how to download the app to your iPhone or Android phone. BlackBerry users can contact VFO to receive an optimized version of the app.