Each Friday, Veal Farmers of Ontario (VFO) compiles market report information from multiple sources to communicate finished veal and male dairy calf prices.
The weekly market report can be a valuable tool for veal and dairy producers to understand current market trends.
Ontario Direct to Packer
Example

These price ranges are compiled weekly after collecting direct to packer pricing from multiple sources. The "Range" listed is the price range for the current week and "Last Week" is the range for the previous week. It is reported as both the rail and live price delivered.
To convert the rail price to the live price, multiply by 0.5456, for example, $3.10 x 0.5456 = $1.691, which is then rounded to the nearest cent for the report.
To convert the live price to the rail price, divide by 0.5456, for example, $1.00/0.5456 = $1.83 on the rail.
Weighted Average
This is calculated by the number of finished veal reported at each price range to give an accurate average price for the week.
For example, 5@$2.50, 20@2.25, 100@2.15, and 150@200 the range would be $2.00 to $2.50, but the weighted average would be $2.08.
BFO Weekly Electronic Veal Sales & Comments 
This is a summary of the Ontario auction markets that report electronically, compiled by Beef Farmers of Ontario (BFO). The three larger finished veal sales are reported for reference. Comments from each of the individual sales barns selling veal are reported.
Quebec Veal Market
Example

The "Quebec Veal Market – Quebec Electronic Auction" chart is what is reported by the Fédération des producteurs de bovins du Québec by volume and rail price.
Ontario Provincial Veal Totals
This chart is the cumulative number of right-weighted veal harvested in Ontario as reported by the Ontario Ministry of Agriculture, Food and Rural Affairs.
Bob Calves
Currently, VFO does not report on dairy breeds, dairy crossbreeds, or bull or heifer calves individually.
The "BFO Auction Report" chart lists the weekly volume, average price, and average weight for caves less than 125 lbs. This information is compiled by BFO from the auction sales that report electronically.
The "Ontario Bob Calves – Live Auction" is a range from a collection of reports of calf sales that do not report electronically to BFO. This report gives an overview of bob calf prices along with the comments from the sales barns.
The "Quebec Bob Calves – Live Auction" chart is collected from the Fédération des producteurs de bovins du Québec. These prices listed are per hundredweight.
Market Report App
The Weekly Market Information Report is updated Fridays to the VFO Market Report app*.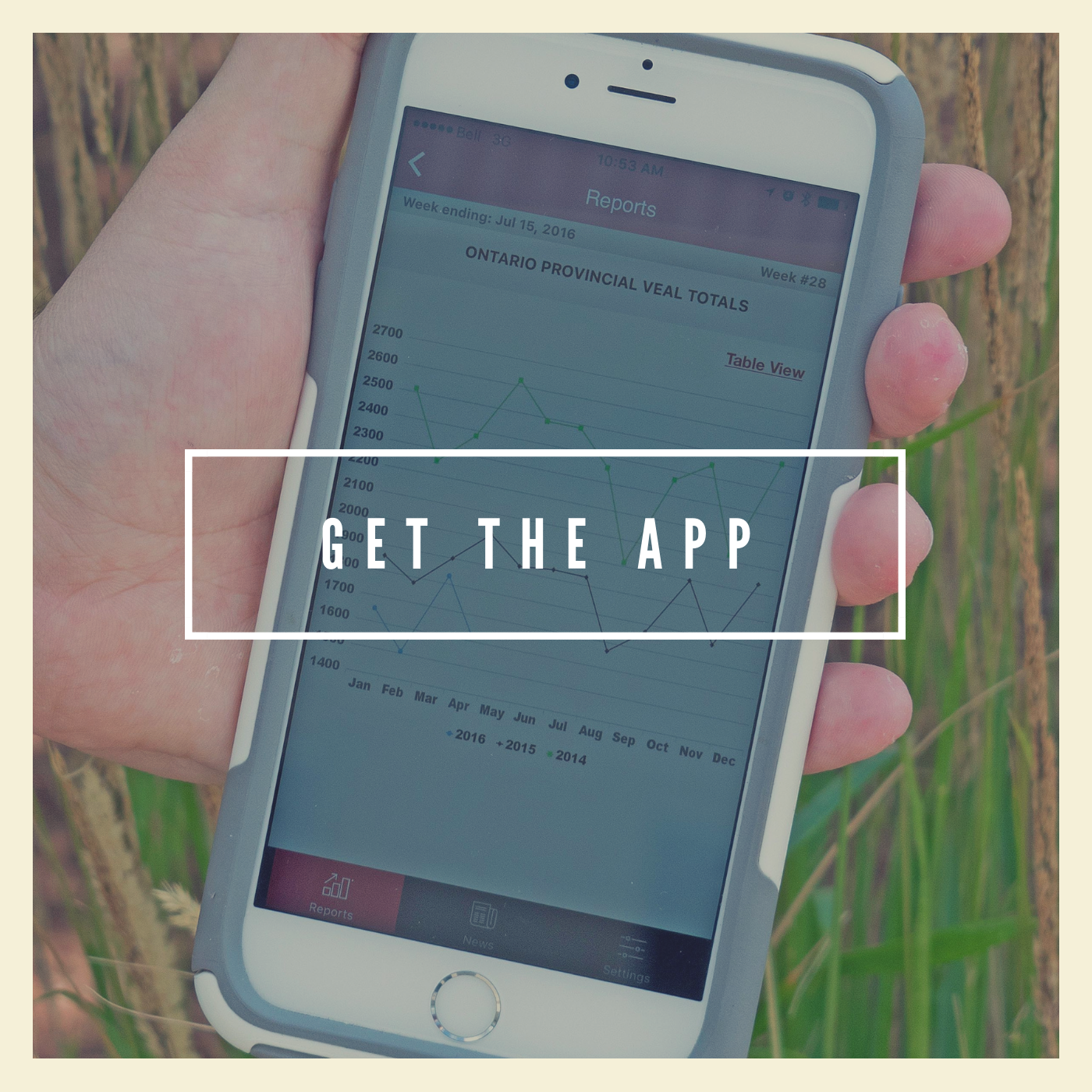 *The Veal Market Report app is available to download from iTunes and the Play Store. Click here for a step-by-step guide on how to download the app to your iPhone or Android phone.